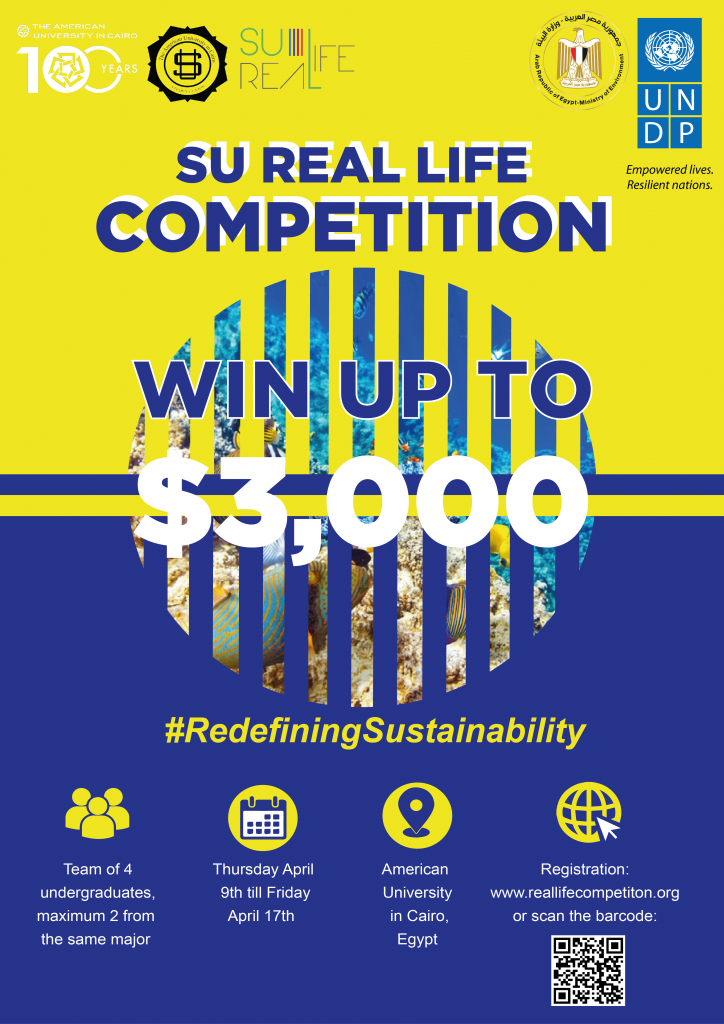 About The SU Real Life Competition 
The Student Union's Real Life Competition (SURL) is a well-established academic initiative under the American University in Cairo (AUC). It is no ordinary competition. This competition gives you the chance to contribute in solving real life challenges that intertwine between different societies all around the globe. Being a student led multidisciplinary competition, SURL has the mission of combining skills and encouraging collaboration between students with several academic disciplines. Apart from having a global impact, the competition has a prominent role in making its participants more aware of the strategies to have or solutions to generate throughout their professional life.
Past SU Real Life Competitions
1-First Edition: Tourism Competition (2018) 
In 2018, the Student Union Real Life Team launched the Tourism Competition which was the first interdisciplinary team competition to target a specific issue facing Egypt today. The Competition was in partnership with the Ministry of Tourism. Further, the competition was open to students in the American University in Cairo (AUC) only. Nonetheless, the competition's success grabbed the attention of various media outlets, having been covered my  leading channels in Egyptian Media such as OSN and OnTV. The winning team received a monetary prize and were presented with award shields.
2- Second Edition: Education Competition (2019) 
In 2019, the Student Union Real Life Team launched Egypt's First Nationwide Competition, in collaboration with the Ministry of Education. The competition involved 8 participating universities from all over Egypt; and had over 70 participating students. The competition's magnitude was unprecedented, whereby it received exposure and recognition from various government officials, corporates and media channels. Significantly, Egyptian Minister of Education, H.E. Dr. Tarek Shawky, had witnessed some of the proposed solutions presented by the participating teams, and awards were provided to the winning teams.
2020 Competition Partners 
This year's Competition is under the auspices of the United Nations Development Program, and the Egyptian Ministry of Environment. Having such prominent figures as our main partners ensures elevating this year's competition to its maximum potential. This is, accordingly, done by utilizing their professional and wide expertise, both nationally and internationally, to deliver a well structured competition that aims to solve a real life problem, as well as develop greatly all participants and place them on the right path to continue redefining their sustainable future. 
2020 Competition Theme: Environment and Sustainability
With the recent degradation of our Environmental resources, taking needed measures to secure our and our planet's future is now a necessity. Therefore, this year, the SU Real Life Competition will be adopting an environmental and sustainability theme, whereby the cases presented will be derived from real life issues facing Egypt and the world today. We believe that by tackling a real-life problem, students will have the chance to proactively engage in the discourse around developing their countries and the planet.
The competition will be focusing, specifically, on finding ways to sustainably manage and protect marine and coastal ecosystems from pollution, as well as address the impacts of ocean acidification. As water scarcity and the protection of marine ecology has long been a major global issue that brutally threatens future generations, students from all over the world will be coming together to help combat this issue by developing a sustainable and adaptive solution, and consequently, impacting future generations and themselves.
Competition Website 
Kindly visit the official website of the competition, www.reallifecompetition.org  for further information about this year's competition including, but not limited to:
Team Registration and Guidelines
Funding Opportunities
Timeline of This Year's Competition
Information about the SU Real Life Project and Past Competitions
Contact Information
Team Guidelines
Teams have to consist of four undergraduate students. There is no restriction with regards to gender, or class standing. However, there can only be a maximum of two students from the same major. Further, all students have to be enrolled in the same university.
University Role
We are kindly requesting from your esteemed institution that you nominate one or two teams to represent your honorable university in this year's competition, as per the team guidelines stated on our website and noted above. Notably, estimates regarding the funding required (accommodation and flight expenses) for each team is outlined below.
Further, in addition to the former request, we would also like to kindly ask if you would forward the competition's poster ( attached in the email) to your network of students via the medium that you deem best fit.
Benefits to University and Students
This competition formulates a challenging opportunity for students from all around the world to engage in reforming one of the most urging global environmental issues. They will be participating in various workshops, trainings and sessions to be able to crack a real-life case.
Thus, accordingly, will be giving them a chance to interact with professionals and experts in the field and get first-hand experience and understand how the entire process works in a developing country.
As a result, the university, as well as the team of students will get significant international outreach and become global citizens, while expanding their social and environmental awareness. The competition will be receiving massive media coverage by national and international channels and media outlets as well as online coverage on all social media platforms. Students will eventually understand how small we are yet how big of an impact we can have, and the extent of our differences yet how similar we all are. After all, any step, no matter how small or big, taken in a topic as dynamic as Environment and Sustainability gets us closer to start seeing real change and giving back to our roots. The outcomes of the students will not be a report or a mere idea, it will be real solutions and initiatives that shall be implemented and shall account for a big change.
Approximate Needed Funding for University Team (Prices are subject to change mildly)
4 Round-Trip Flight Tickets:  $1,800
Cairo Accommodation (AUC dorms): $300
Hurghada Accommodation (Place to be announced, all inclusive): $850
Total = $2,950
**Please refer to our website if you would like to apply for sponsorship opportunities