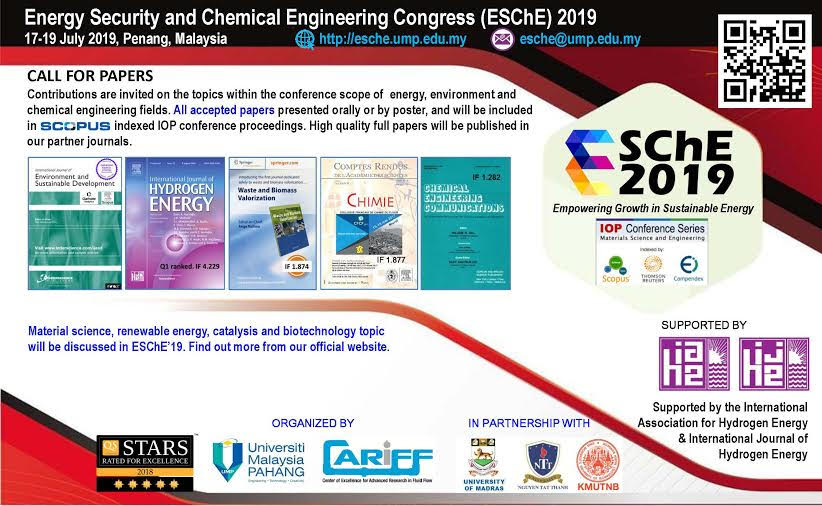 CALL FOR PAPERS
ENERGY SECURITY AND CHEMICAL ENGINEERING CONGRESS

(ESChE) 2019
Greeting from  ESChE 2019!
We cordially invite you to submit abstracts for ENERGY SECURITY AND CHEMICAL ENGINEERING CONGRESS (ESChE) 2019, which will be held in Penang, Malaysia from 17-19th July 2019. ESChE 2019 is a biennial conference organized by the Centre of Excellence for Advanced Research in Fluid Flow (CARiFF), Universiti Malaysia Pahang in partnership with our regional peers, King Mongkut's University of Technology North Bangkok Thailand, Nguyen Tat Thanh University Vietnam and also University of Madras India.
ESChE 2019 will focus on the opportunities offered by the sustainable development related to material, environmental, biomass, biotechnology, chemical and energy (NOT LIMITED TO) to meet the growing demands of the developing countries without compromising the environment.
The abstract submission is now open. For more details such as submission of abstracts, registration and also fee structure, please visit our one-stop web page which can be accessed by a click of this url: http://esche.ump.edu.my/index.php/en/.
Important Dates:
Abstract Submission Open:  1 September 2018
Abstract Submission Deadline: 1 December 2018 
Acceptance Letter: 31 December 2018
Full Paper Submission: 28 February 2019
Early Bird Registration Open:  1 January 2019
Early Bird Registration Closed:  25 February 2019
Registration Deadline:  15 April 2019
ESChE 2019:  17-19 July 2019 
Thank you.
With Best Regards
ESChE 2019 Secretariate/ Promotion Team
(Attn: Siti Kholijah Abdul Mudalip/ Nur Syuhada' Binti Asmar)
Centre of Excellence for Advanced Research in Fluid Flow (CARIFF)
Universiti Malaysia Pahang
Lebuhraya Tun Razak
26300 Kuantan, Pahang
Malaysia
Email: esche@ump.edu.my
Tel: +609 549 3232
Fax: +609 549 3233