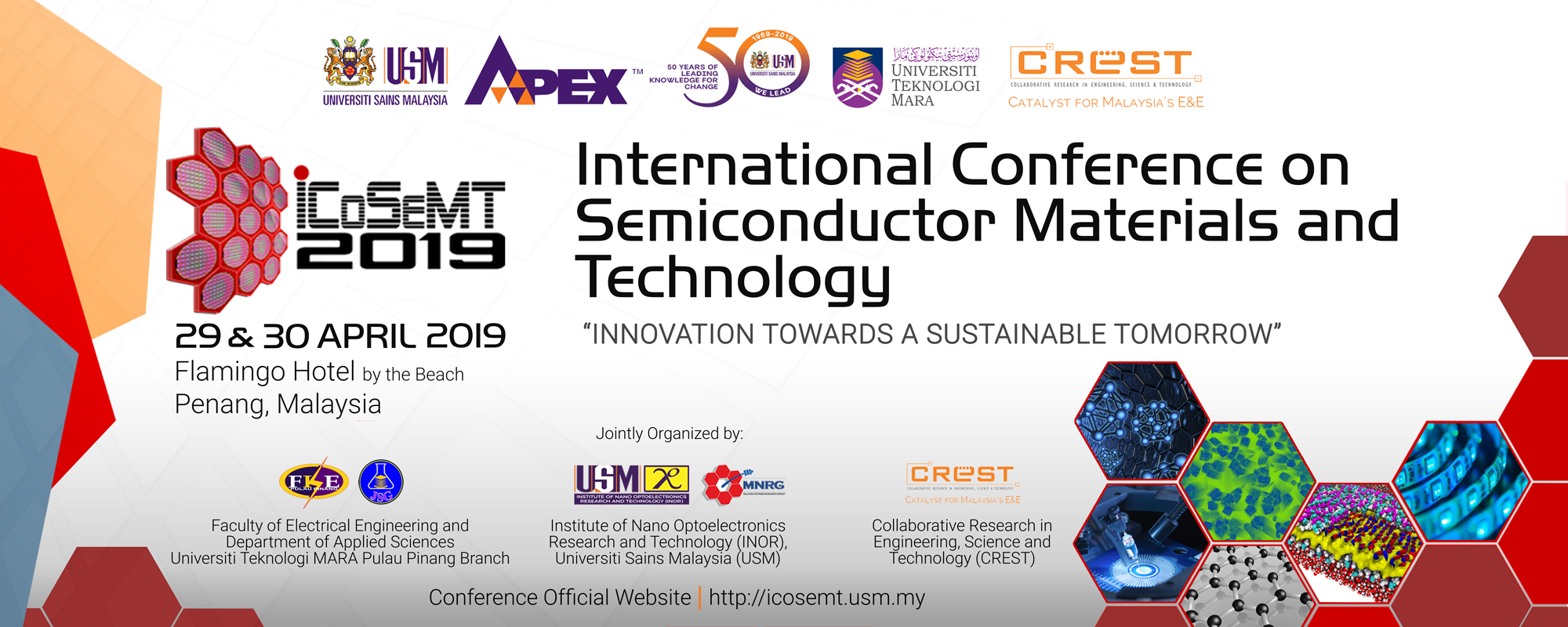 INVITATION TO PARTICIPATE IN INTERNATIONAL CONFERENCE ON SEMICONDUCTOR MATERIALS AND TECHNOLOGY (ICoSeMT 2019)
We are pleased to announce that "International Conference on Semiconductor Materials and Technology (ICoSeMT 2019)", which is jointly organized by the Institute of Nano Optoelectronics Research and Technology (INOR), Universiti Sains Malaysia (USM), Universiti Teknologi MARA (UiTM) Cawangan Pulau Pinang and Collaborative Research in Engineering, Science & Technology (CREST) will be held on 29 and 30 April 2019 at Flamingo Hotel by the Beach, Tanjung Bungah, Penang in conjunction with the 50th Anniversary of USM.
The inaugural event aims to provide a platform to the students, academicians, researchers, and professional groups from inside and outside the country to share knowledge and latest findings as well as experience in the field of semiconductor materials and technology. We would like to invite you to participate in this international conference. For more details regarding the conference, please refer to the attached brochure and visit the conference website at http://icosemt.usm.my or download the brochure here: Brochure-ICoSeMT2019
Please contact ICoSeMT 2019 secretariat:
Dr. Lim Way Foong (way_foong@usm.my/ 04-653 5654) or
Dr. Ainorkhilah Mahmood (ainorkhilah_sp@ppinang.uitm.edu.my/ 04-382 2578)
for questions and information regarding the conference.