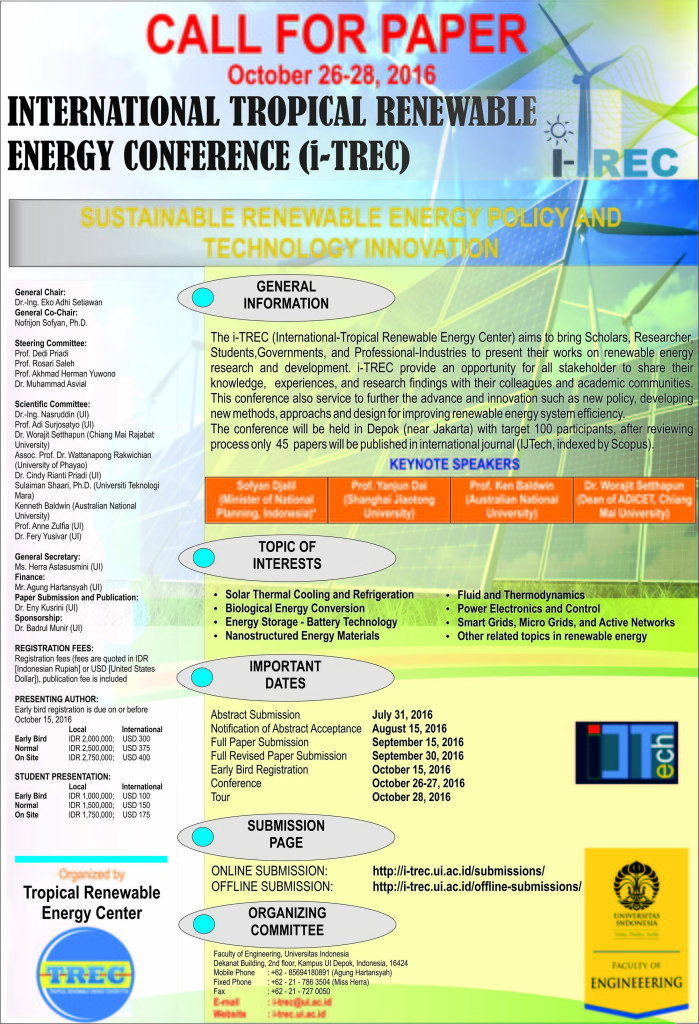 The i-TREC (International-Tropical Renewable Energy Conference) aims to bring scholars, researchers, students, governments, and professional-industries to present their works on renewable energy research and development. This event provides an excellent opportunity for all stakeholders to share their knowledge, experiences, and research findings with their colleagues and academic communities. Thus, the conference also serves for further advancement, development and innovation including new policy, methods, as well as approaches and designs for improving renewable energy system efficiency. Based on this spirit and motivation, therefore, the main theme of i-TREC is "Sustainable Renewable Energy Policy and Technology Innovation". Current and future directions from world reputable keynote speakers would strengthen our renewable energy agenda in international relationships.
The conference will be held on October, 26-28th, 2016 in Margo Hotel Depok, close to Universitas Indonesia. The selected papers after careful reviewing process will be published in International Journal of Technology (IJTech). IJTech is currently indexed in Google scholar, DOAJ, EBSCO, GISI, Index Copernicus, SCOPUS, Scimago, Emerging Sources Citation Index (ESCI) Thomson Reuters, Directory of Research Journal Indexing (DRJI) and a member of CrossRef.It has been accepted for coverage in selected Elsevier products.
The topics of interest in i-TREC include, but are not limited to:
Solar Thermal Cooling and Refrigeration
Biological Energy Conversion
Energy Storage – Battery Technology
Nanostructured Energy Materials
Fluid and Thermodynamics
Power Electronics and Control
Smartgrid, Microgrid and Active Networks
Renewable Energy Policy and Market
For more detail information about i-TREC please see Call For Paper in the attachment and visit our website (http://i-trec.ui.ac.id)
We are looking forward to having your excellent contribution to i-TREC 2016.
i-TREC 2016 Committee
Email: trec@eng.ui.ac.id
website: http://i-trec.ui.ac.id/