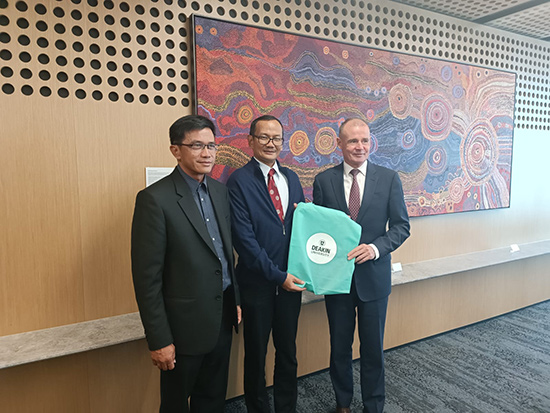 3.2 Number graduating in health professions
3.2.1 Proportion of graduates in health professions
Number of graduates :
Number of graduates in health professions :
3.3 Collaborations and health services
3.3.1 Current collaborations with health institutions
Have current collaborations with local, national, or global health institutions to improve health and well-being outcomes.
•local collaboration
•national collaboration
•global cooperation
As evidence of its consistency in producing world-class doctors, the Faculty of Engineering at the Universitas Indonesia (FTUI) has collaborated with a variety of parties both inside and outside the country. The first and foremost collaboration is with hospital institutions to support graduates of general practitioners, specialists, and world-class scientists. FTUI recognizes that the establishment of strong relationships between medical faculty and teaching hospitals is also critical to the success of medical education. The globalization era, which has begun to permeate the medical world, is also recognized as a challenge. The advancement of medical science, encompassing everything from education to clinical practice.
The academic health system of UI has the main collaborative program, whereas they are a networking system between all faculties below UI Health Sciences Cluster. The AHS also collaborates with educational hospital and the provincial Government of DKI Jakarta. In terms of research, the DKI Jakarta regional government has approved grants to be given for 9 health research proposals that deemed to help the public health in DKI Jakarta. Due to this collaboration, students may go to social institutions and do inhouse training in government primary health care facilities.
Faculty of Engineering Universitas Indonesia has been hosting the Association of Academic Health Centers International Southeast Asia (AAHCI SEA) Regional Office since 2018; our appointment as the SEA Regional Office was extended for a period of two years until 2022. We bring together academic health centers and systems within the region and provide valuable insight on the key issues and challenges.
In 2012, Oxford University signed a memorandum of understanding with FMUI. The signing of the memorandum began with collaboration in clinical research on infectious diseases. This MoU was then followed by the inauguration of the IOCRL on May 15, 2019 with the aim of strengthening and expanding clinical research, especially at UI. The IOCRL's efforts over the past two years have facilitated various clinical research results and publications. The IOCRL has played a major role in efforts to improve the management of complex infectious diseases that have an impact on public health such as TB, HIV, COVID-19, and drug-resistant infections. Facility design that is integrated with complex interventions is claimed to be able to improve research and observation results. The IOCRL also offers research funding.
FTUI has also collaborated with International NGO Partners to accelerate the achievement of Sustainable Development Goals. Grand Challenges Canada (GCC), is one of the institutions that facilitates research between Canada and Indonesia. Grand Challenges Canada's programs are primarily undertaken with the financial support of the Government of Canada provided through Global Affairs Canada. Grand Challenges Canada (GCC) in collaboration with the Faculty of Medicine, Universitas Indonesia conducted a research entitled "Promotion of maternal gut microbiota and psychosocial stimulation on child cognitive development at 6-months of age". This study aims to determine the effect of giving probiotic supplementation and LC-PUFA to pregnant women along with standard blood supplement tablets from government programs, education on psychosocial stimulation, and education on healthy eating patterns on children's growth and cognitive function. This research was conducted in 8 Type D General Hospitals and primary health centers in DKI Jakarta Province.
FMUI has several collaborations with local and international universities to hold guest lectures and workshops for undergraduate, post graduate (master and doctoral students) in 2019 and 2020. For example, Master Program in Biomedical Science held a Special Lecture by inviting Kathryn Effendi MD, Ph.D from the Department of Pathology, Keio University School of Medicine with the theme Molecular Pathology of Hepatocellular Carcinoma. The activity was carried out online via Zoom and was attended by participants from master's, doctoral, and specialist doctor program students.
Evidence :
3.3.2 Health outreach programmes
Deliver outreach programmes and projects in the local community (which can include student volunteering programmes) to improve or promote health and well-being including hygiene, nutrition, family planning, sports, exercise, aging well, and other health and well-being related topics.
•Ad hoc
•As part of an ongoing programme
Indonesian Hydration Working Group (IHWG) Another major collaboration program is the FTUI incorporated in the IHWG (Indonesian Hydration Working Group). IHWG is an organization that aims to improve health related to hydration with the mission of raising awareness of the importance of water for health. As one of the University of Indonesia's research clusters, IHWG is expected to be able to help improve the quality and quantity of UI research that currently focuses on 10 fields, namely Allevation, Child, Family & Community, Genome, Governance, Democratization & Public Social Policy, Energy, Restoring the Earth's Natural Support System, Nano & Advanced Technology, Culture, Indigenous Studies, Urban Planning & Transportation, and ICT; especially those related to water accessibility, the importance of water for health, and can share knowledge related to hydration and health.
IHWG together with FKUI has carried out several important activities, such as (1) conducting IHWG Week, (2) hydration education for the general public, and (3) socialization of the importance of hydration using comic media. At IHWG Week, FTUI presented many national and international experts who discussed hydration and its relationship with health. For education, FTUI has collaborated with the DKI Government and other parties to conduct training for School Health Teacher (Usaha Kesehatan Sekolah) on healthy hydration.
Info Sehat FTUI Untuk Anda (FTUI Health Info For You) program provide health informations such as diseases, how to improve quality of life, health conference for public, etc.
Evidence :
3.3.3 Shared sports facilities
Share sports facilities with the local community, for instance with local schools or with the general public
•With free Access
•With charged Access
Center for Sport and Exercise Study Achievement in international sports competition has always been a part of the pride of a nation. One of the important aspect in producing good athletes is the health or medical factor. The positive impact of physical activity and exercise to national health status has been addressed for years. Yet, ample studies is still needed to enhance the nationwide application of active lifestyle. The research focus on the health and medical profile, effect and problems of physical activity, exercise and sports through medical and interdisciplinary sports and exercise researches.
Evidence :
3.3.4 Free sexual health care for students
Provide students access to sexual and reproductive health-care services including information and education services.
•Free Access
•Charged Access
Universitas Indonesia provides students access to sexual and reproductive health-care services through free health services for students that are provided by UI Satellite Clinic and Faculty. UI Satellite Clinic is the center for physical and mental health services, including health check-up, psychological counseling for mental health, sexual and reproductive health services. The faculty also provides facilitation services concerning mental health, sexual and reproductive issues.
Evidence :
3.3.5 Mental health support
Provide students and staff with access to free mental health support.
•Free Access
•Charged Access
To overcome the threat of mental health disorders that can be experienced during the COVID-19 Pandemics, Department of Community Service Badan Eksekutif Mahasiswa Ikatan Keluarga Mahasiswa (BEM IKM) FKUI in collaboration with experts from the Department of Psychiatry FKUI-RSCM initiated a movement called Quality Time in Quarantine, or called QualityTine. QualityTine is a series of events and services aimed at improving mental health of the community during the pandemic, as well as assisting in efforts to prevent the spread of COVID-19 at the same time. These services include publications on Instagram, challenges, webinars, and recommendations for useful activities to do at home. All of the content references credible sources and is curated by doctors from the Department of ———.
Evidence :
3.3.6 Smoke-free policy
Have a 'smoke-free' policy.
•Smoking-free campus
•Smoking in designated areas
Universitas Indonesia has established a smoking free area within the campus area since 2011 based on the Rector's Decree number 1805/SK/R/UI/2011 concerning the Universitas Indonesia No-Smoking Areas (KTR UI). These technical guidelines have been prepared in order to provide more complete information and a uniform reference regarding the implementation of KTR UI at the faculty, postgraduate, and university levels. 'No smoking area' banners also posted in some areas inside campus.
Evidence :