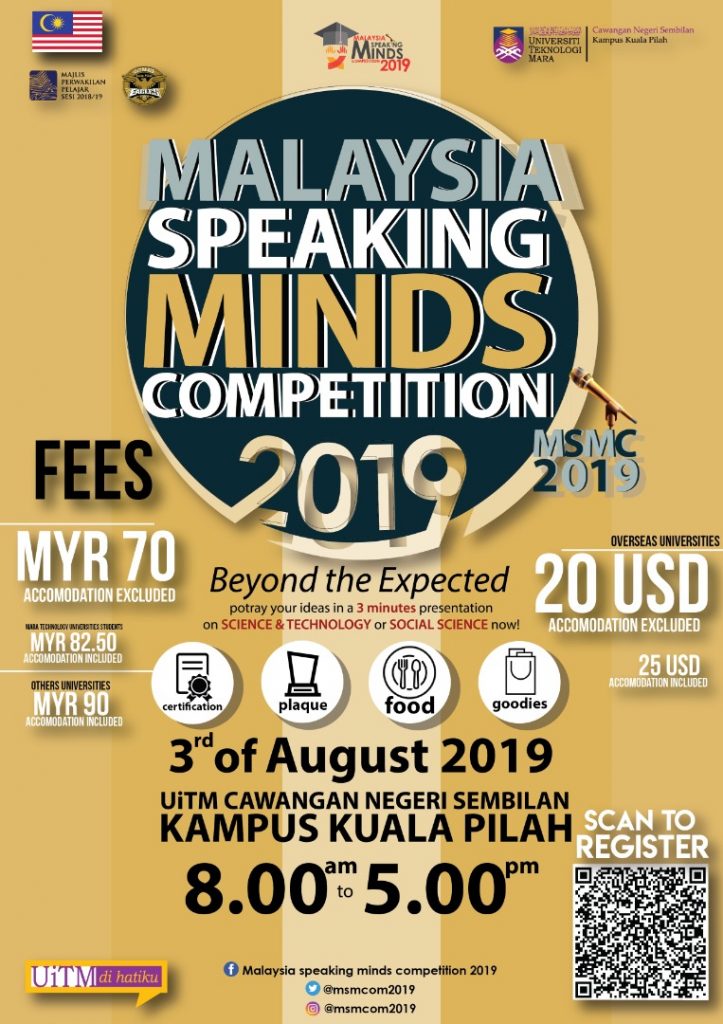 "Beyond the expected"
Malaysia Speaking Minds Competition 2019
MSMC'19 is a 3-minute speech competition that requires the individual to use their creative thinking to come up with idea(s) that goes in-line with the given themes.  
To showcase the diversity of fields of knowledge that applies to all university students.
As a platform to deliver ideas professionally that portrays the quality of knowledge.
To challenge university student's ability to come up with workable ideas in regards to the theme given.
To showcase the ability of UiTM Negeri Sembilan Branch, Kuala Pilah Campus at organising a national level program in line with realizing UiTM's vision.
Venue: UiTM Negeri Sembilan Branch Campus Kuala Pilah.
Date: 3/8/2019
Time: 8a.m-5p.m
Fee
Registration Fees: MYR70 / 20 USD (without accommodation)
Accommodation Fees
UiTM students: MYR12.50 (bedsheets included)
Non-UiTM students: MYR20.00/ 5 USD (bedsheets included)
Participation
Undergraduate/ postgraduate students from Institutions / Colleges / Universities / Polytechnics.
Theme
Science & technology
Social Sciences
Terms and Conditions
All undergraduate (Diploma & Degree) / postgraduate students of local / private/ international institutions / Colleges / Universities / Polytechnics are eligible to participate in Malaysia Speaking Minds competition 2019.
Student can showcase their original research product.
Participants need to compete individually.
Every project must be enclosed with an abstract.
Each participant is allowed to present their ideas within 3 MINUTES given.
Ideas presented by participants must be in either Science Technology or Social Science category.
The ideas presented must be genuine and not taken from any other sources.
The panel holds the right to reject any entry that is incomplete or violates the Terms and Conditions for MSMC2019.
The presentation must be in English.
No refundable
Award
All participant will be given certificates of participation and goodie bags.
Winners will be awarded 1st, 2nd or 3rd placing and will receive trophies and cash prizes.