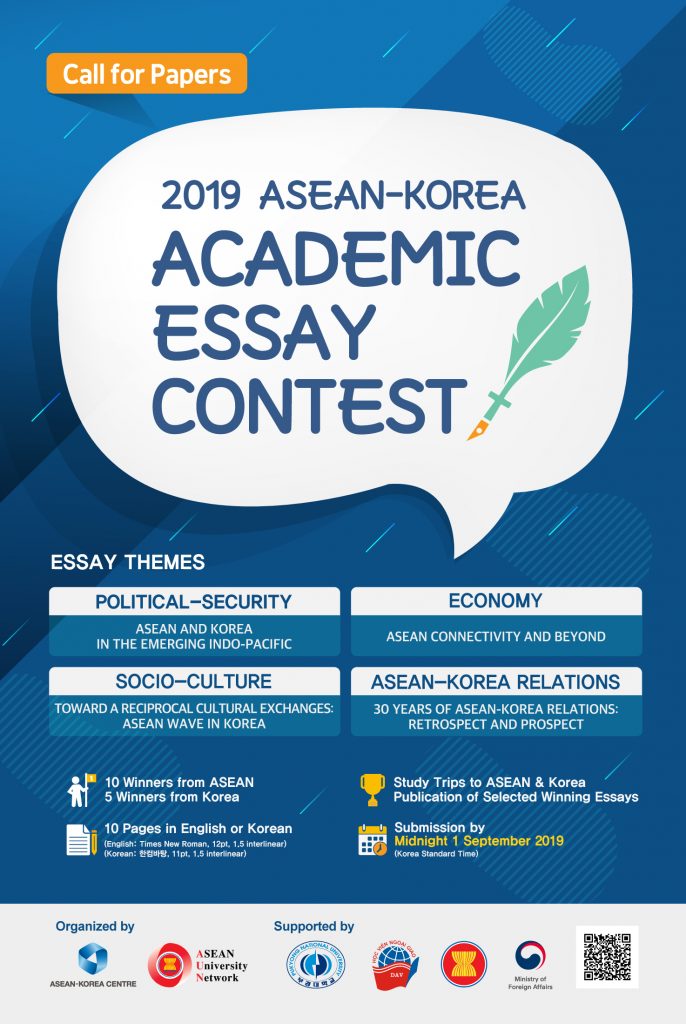 Call for Papers:
2019 ASEAN-Korea Academic Essay Contest
Organized by ASEAN-Korea Centre and ASEAN University Network (AUN)
Supported by ASEAN Secretariat, ROK Ministry of Foreign Affairs, Pukyoung National University Global Area Studies Center, Diplomatic Academy of Vietnam
With the beginning of dialogue partnership in 1989, ASEAN and Korea have become strong partners in all aspects of political-security, economy and socio-culture. ASEAN is Korea's second largest trading partner and third largest investment destination, while Korea is ASEAN's fifth largest trading partner. ASEAN is also the most visited overseas destination for Koreans, and the people-to-people exchanges between the two regions has surpassed 11 million in 2018. With this strengthening ASEAN-Korea ties, the dialogue partnership is celebrating its 30th anniversary this year, and the ASEAN-ROK Commemorative Summit is to be held in Korea for the third time, followed by the Inaugural Mekong-ROK Summit.
Against such backdrop, the ASEAN-Korea Centre, an inter-governmental organization mandated to promote economic and socio-cultural cooperation between ASEAN and Korea, is hosting the 2019 ASEAN-Korea Academic Essay Contest inviting students of ASEAN and Korea to share their perspectives and knowledge on ASEAN and ASEAN-Korea relations. The young perspectives of the youth of ASEAN and Korea will contribute toward building a true, genuine and lasting partnership.
THEME (select one of the following themes)
ASEAN and Korea in the Emerging Indo-Pacific
ASEAN Connectivity and Beyond
Toward a Reciprocal Cultural Exchanges: ASEAN Wave in Korea
30 Years of ASEAN-Korea Relations: Retrospect and Prospect
ELIGIBILITY
The contest invites all ASEAN and Korean undergraduate and graduate students enrolled in education institutions based in ASEAN or Korea.
LANGUAGE
English or Korean
*Abstract must be written in English for both English and Korean essays.
DEADLINE AND REQUIREMENTS
Submission: 1 September 2019 (Korea Standard Time)
Winner Announcement: 8 October 2019
Required Documents:
1) Essay
2) Abstract
3) Application form
FORMAT
English:
Max. 4,000 words or 10 pages
Times New Roman
12-point
1.5 interlinear
Korean:
Max. 3,000 words or 10 pages
한컴바탕
11-point
1.5 interlinear
– Abstract: 500 words / 1 page
– Essays must be submitted and formatted in Microsoft Word.
– In-text citations must be made in APA (sixth edition).
WINNERS
– 10 ASEAN winners (1 winner from each ASEAN Member State)
– 5 Korean winners
PRIZES
– Winners will be invited to an academic workshop to present their essays.
– Winners will be offered an opportunity for study trips to ASEAN and Korea (4 nights/5 days):
a) Study Trip to Korea – Visits to the ASEAN-Korea Centre, universities, research institutes, and cultural sites in Korea.
b) Study Trip to ASEAN – Visits to the universities, research institutes and cultural sites in Viet Nam.
*Travel expenses will be covered by the ASEAN-Korea Centre.
JUDGING
All eligible entries received will be assessed by a qualified panel of judges chosen by the organizers.
NOTICE
– All requirements must be submitted electronically by the submission deadline on MailScanner has detected definite fraud in the website at "bit.do". Do not trust this website: http://bit.do/2019akessay
– Reference materials must be properly cited. About the plagiarism policy, refer to www.plagiarism.org.
– Essays must be written by one person. Co-authored essays are not accepted.
– Only original and unpublished essays will be considered for assessment.
– For any inquiries, contact us at essay@aseankorea.org
RECOMMENDED REFERENCES
All applicants are kindly recommended to visit the ASEAN E-Library (http://elibrary.aseankorea.org) and read the key documents on ASEAN Community and ASEAN-Korea relations including ASEAN Community Vision 2025, Master Plan on ASEAN Connectivity 2025, ASEAN-ROK Plan of Action to Implement the Joint Declaration on Strategic Partnership for Peace and Prosperity 2016-2020, Joint Statement of the ASEAN-ROK Commemorative Summit.
For more information, please visit: http://bit.ly/2019akessayinfo