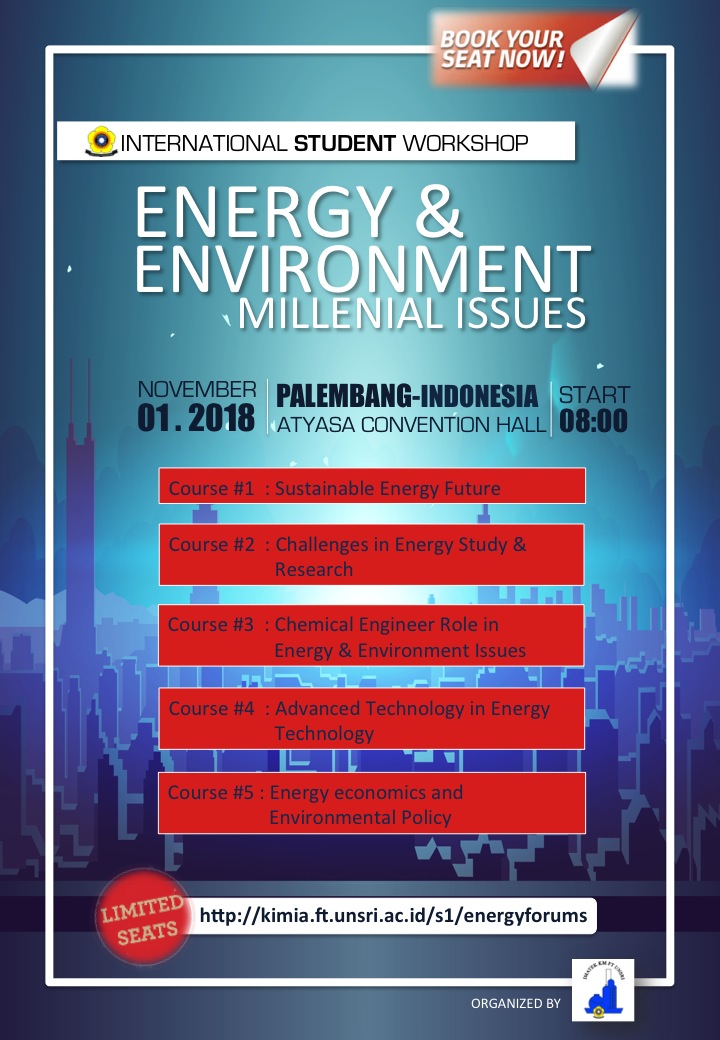 International Student Workshop on Energy and Environment (ISWEE) 2018, the first and the biggest international student workshop held by IMATEK FT Universitas Sriwijaya in 2018.
ISWEE is a forum for chemical engineering students who are interested and/or working in education, research and the field of energy and the environment. The theme of the workshop will be Energy and Environmental Millenial Issues.
ISWEE 2008 will be attended by various undergraduate, master and doctoral students as well as researchers from various institutes in the world.
Please register yourself immediately, for every 1 participant delegation from the invited university, you will be free of
registration charge.
This offer is only valid until 24 September 2018 only. Seats are limited.
Do the online early registration https://bit.ly/2wSHnFJ.
Save the important things about ISWEE2018.
For more information,please visit the official website
or you may contact : +62 89678651040
if you have inquiries concerning the workshop, please write to:
teknikkimia@unsri.ac.id or isweeunsri@gmail.com.
ISWEE 2018 Chairman,
Muhammad Ihsan
Imatek FT Unsri
Chemical Engineering Department Faculty of Engineering
Universitas Sriwijaya
Jl. Srijaya Negara Bukit Besar Palembang, Indonesia
JURUSAN TEKNIK KIMIA
FAKULTAS TEKNIK UNIVERSITAS SRIWIJAYA
JL. Raya Palembang_Prabumulih km 32 Ogan Ilir
Jl. Srijaya Negara Bukit Besar Palembang, Indonesia
website : http://kimia.ft.unsri.ac.id/s1