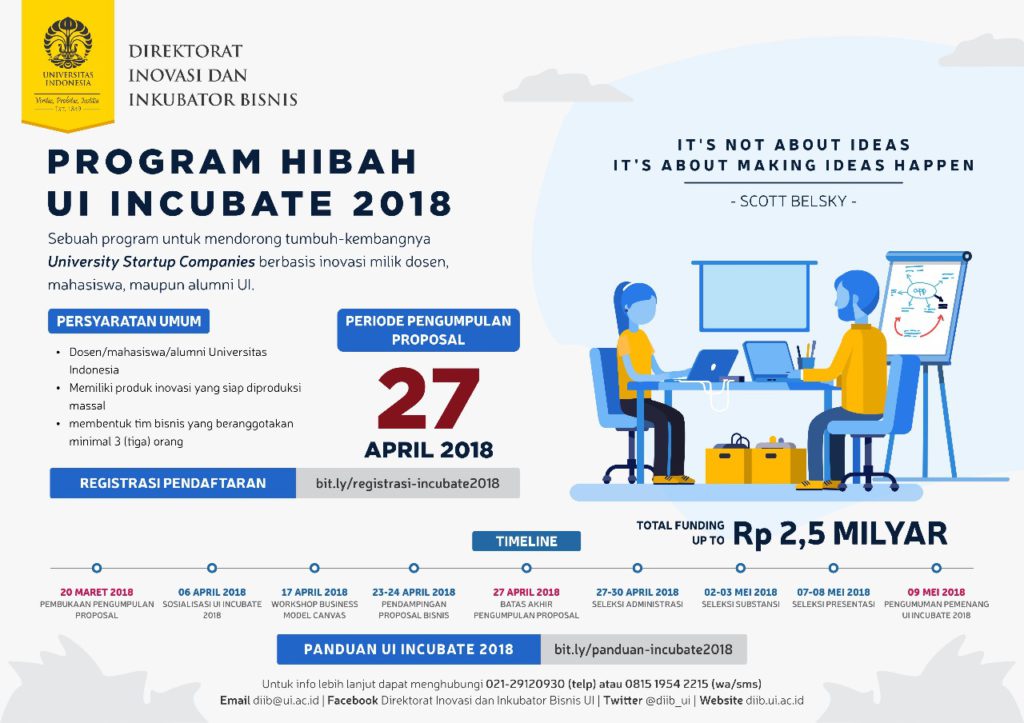 "It's not about ideas, it's about making ideas happen." -Scott Belsky
Are you passionate in Entrepreneurship and want to build your own Startup?
Direktorat Inovasi dan Inkubator Bisnis Universitas Indonesia menyelenggarakan:
"UI INCUBATE 2018″
Ajang kompetisi rintisan bisnis dan kewirausahaan untuk para sivitas akademika Universitas Indonesia dengan total funding mencapai 2,5 Miliar rupiah.
? Kategori Bisnis:
Pangan, Kesehatan dan Obat, Energi, Transportasi, Pertahanan dan Keamanan, Teknologi Informasi dan Komunikasi, Maritim, Seni, Budaya dan Pariwisata, serta Pertanian dan Peternakan.
? Persyaratan Umum
– Dosen/mahasiswa/alumni Universitas Indonesia
– Memiliki produk inovasi yang siap diproduksi massal
– Membentuk tim bisnis yang beranggotakan minimal 3 (tiga) orang
? Benefit Pemenang:
– Modal Usaha
– Coworking Space
– Bantuan legalisasi usaha
– Pendampingan Bisnis
– Pemasaran Produk Bisnis
– Pameran-pameran
Registrasi Pendaftaran: bit.ly/registrasi-incubate2018
? Kirim proposal dalam bentuk softcopy ke email:
inkubatorbisnis-diib@ui.ac.id dengan subject: 2018_UI Incubate_Judul Proposal.
Batas Akhir Pengumpulan Proposal: Jumat, 27 April 2018.
?Unduh panduan pendaftaran di sini: bit.ly/panduan-incubate2018
?Unduh template proposal UI Incubate di sini: bit.ly/template-incubate2018
☎ Informasi lebih lanjut: 081519542215 / 021-29120930
—————————————
Punya produk inovasi tapi belum memiliki tim? Cari dan bentuk team dengan membuka tautan berikut ini: bit.ly/founder-matching2018
—————————————
Cari tau berbagai informasi kegiatan DIIB UI dalam:
Website: diib.ui.ac.id
Twitter: @DIIB_UI
Facebook: Direktorat Inovasi dan Inkubator Bisnis
Email: diib@ui.ac.id