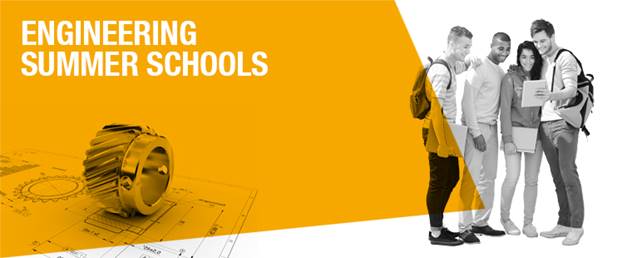 We are glad to announce that the application portal for our 2019 Summer Schools at RWTH Aachen University is open and that scholarships are available for selected programs (*).
The DAAD scholarships (funded by the Federal Foreign Office) and International Academy scholarships will be granted to highly qualified students from selected universities.
Our programs are designed for undergraduate students of engineering or related subject areas, who want to experience German engineering and student life at one of Europe's leading technical universities. Everyone can apply!
Please refer to our Summer Schools brochure and Parents Guide for more information.
Applications submitted before March 1st benefit from our 10% Early Bird discount!
The following programs are offered during the months of June to August:
Mechanical Engineering
Automotive and Mobility Studies (June 3 – 28, 2019)
Mechatronic Systems Engineering and Product Innovation (June 24 – July 12, 2019)
(*) Automation and Simulation (July 8 – August 2, 2019)
(*) Agile Innovation: Product Design meets Engineering (July 22 – August 2, 2019)
Production Technology meets Industry 4.0 (August 5 – 23, 2019)
Robotics for Future Industrial Applications (August 5 – 23, 2019)
Engineering & Management
(*) Six Sigma Quality Management (June 17 – 28, 2019)
(*) Bringing Technological Innovations to Market: The Case of E-Mobility (June 17 – 28, 2019)
(*) Supply Chain Management and Logistics (July 1 – 12, 2019)
Electrical Engineering
Sustainable Energy Technology (June 17 – July 5, 2019)
(*) Smart Electrical Power Systems (July 1 – 12, 2019)
Civil Engineering
(*) Structural Engineering of Industrial Facilities (July 1 – 12, 2019)
For further information, please contact:
Program Coordinator Summer and Winter Schools
RWTH International Academy gGmbH
Campus-Boulevard 30, Cluster Produktionstechnik
52074 Aachen, Germany
summerschool@academy.rwth-aachen.de
winterschool@academy.rwth-aachen.de
www.academy.rwth-aachen.de