Internship and job training are essential for career development of students. By integrating conceptual knowledge and training through academic internship programs, students can be facilitated to better implement their concepts at the workplace.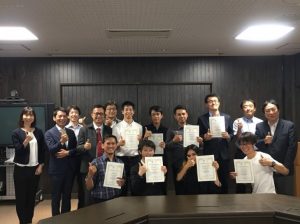 Figure: Arif and Wahidun, Universitas Indonesia Students doing internship at Osaka University and IHI Corporation Japan (2019)
Throughout the year 2019 Faculty of Engineering Universitas Indonesia students have done job training and internship at various companies and institutions as part of their academic development. Faculty of Engineering Universitas Indonesia appreciate the following companies and institutions for providing internship and job training opportunities to our students.
PT Tereos FKS Indonesia
Osaka University Coupling Internship Program – IHI Corporation
The 2020 Global Internship Conference
Vietnam Japan University Master's Program in Global Leadership
FPT-UBD Innovation Lab Software Development Training Programme
Sumitomo
AIESEC UI
PT Jasa Marga
Center for IoT Innovation
Grab Indonesia
Traveloka
Conoco Philips Indonesia
Husky-CNOOC Madura Ltd.
LEMIGAS
Medco E&P Natuna, Ltd
PT Adaro Indonesia
PT Badak NGL
PT GMF AeroAsia Tbk
PT Indoaluminium Intikarsa Industri
PT Krakatau Steel
PT Mercedes-Benz Indonesia
PT Petrogas (Basin) Ltd
PT Surya Toto Indonesia Tbk
PT. Adhi Karya (Persero) Tbk
PT. Amman Mineral Nusa Tenggara
PT. ANTAM POMALAA
PT. Astra Daido Steel Indonesia
PT. Astra Daihatsu Motor
PT. Bumi Suksesindo Copper and Gold
PT. Citra Tubindo Engineering
PT. Dirgantara Indonesia
PT. Dynapack Indonesia
PT. Essar Indonesia
PT. Freeport Indonesia
PT. Gunanusa Utama Fabricators
PT. Halliburton Indonesia
PT. Indocast Fransasia Sejahtera
PT. Kalimasada Pusaka
PT. Karya Tekhnik Utama
PT. Komatsu Indonesia
PT. Lapindo Brantas
PT. Latinusa Tbk
PT. Pertamina
PT. PINDAD
PT. Rehau Indonesia
PT. Rekayasa Industri (REKIND)
PT. Rusli Vinilon Sakti
PT. Semen Indonesia/Semen Gresik
PT. Tamaris Hydro
PT. TechnipFMC Indonesia
PT. Teknologi Rekayasa Katup
PT. Timah (Persero) Tbk
PT. United Tractors, Tbk
PT. Vale Indonesia, Tbk
PT.Pertamina Hulu Sanga Sanga
Pusat Penelitian dan Pengembangan Teknologi Mineral dan Batubara
Badan Pengatur Hilir Minyak dan Gas Bumi (BPH Migas)
Balai Besar Teknologi Kekuatan Struktur (B2TKS)
Kementrian Perindustrian
Lembaga Minyak dan Gas Bumi (LEMIGAS)
Petrochina International Companies in Indonesia
PT Adhi Karya (Persero)
PT Armindo Catur Pratama
PT Cahaya Buana Intitama
PT Pertamina Hulu Energi ONWJ
PT United Tractors, Tbk
PT. Alcon (Ciba Vision Batam)
PT. Andaro Energy
PT. Armindo Catur Pratama
PT. BP Indonesia
PT. Bursa Efek Indonesia
PT. Citra Langgeng Sentosa
PT. Cladtek Bi-Metal Manufacturing
PT. JGC Indonesia
PT. McDermott Indonesia
PT. Multi Area Desentralisasi Pembangunan
PT. Perusahaan Gas Negara
PT. Petrochina Sorong – Papua Barat
PT. PLN KITSU
PT. Saipem Indonesia
PTPSM – BPPT
Rumah Sakit Universitas Indonesia